It's said that 90% of our job as a real estate broker is to lead generate. We disagree. We limit our outreach to potential clients so that we can focus our energy and attention on our current clients. With nearly all of our clients referred to us from our satisfied clients, we spend 0% of our time on lead generation and 100% of it on serving our client.
Of course, spending no time lead generating means we work with fewer clients at a time. What does working with fewer clients mean for our agents and buyers? Our average buyer wins after only 1-2 offers and only needing to search for 1-8 weeks. We don't rush our clients - We just help them win sooner and only as fast as the buyer feels comfortable with.
Our personalized approach allows us the time to learn what you truly want in a home. We take our time educating new and seasoned homebuyers about new policies, strategies, and tools. After a couple of home tours to ask each other questions, we then preview homes for you to ease your stress and workload and create video tours to be more efficient with your time.
We also research homes, sellers, seller's motivation, and current market trend to better understand the home and our chances of winning the home. We also locate additional documents and information to help in creating a strong yet safe offer by safely adding or removing contingencies to better our chances of winning - While keeping you safe.
We provide education, research, assistance, guidance, strategies, and negotiations from beginning to end - All for free to you as a buyer.
BH Group Specs:
% of Winning Clients without having the High Bid
2018: 91%
2017: 89%
2016: 67%
2015: 50%



"We went into this search nervous and a bit intimidated but Brian helped educate us and made us feel much more at ease with the whole process."
You work a lot. It's only fair that we work a lot, too - For you! We locate and visit possible homes you may be interested in. Our goal is to preview homes on the day they come onto the market, if we have even the slightest hunch that you may be interested in the home. For the homes we want you to see right away, we prepare remote home tours with the help of laser measurers, moisture detectors, photometers, and laser levels. We can FaceTime or video stream video to you live as if you are there with us! Many of our clients are out of state and our techniques, commentaries, and technology allows for many happy buyers to be able to buy from afar safety. We do this for all of our local clients too though!
Licensed and bonded home inspectors protect your purchase and educate you on how to maintain a home. Inspections typically cost 300-800 per home. We work with several inspectors who are not only some of the most certified experts, but also offer heavy discounts for our buyers. If need be, we will ensure last minute requests are met as we would never ask for you to waive an inspection contingency without being protected. We'll also advise you if we think you can include a post-offer inspection too to save time, money, and stress.
Accessibility and Communication
We work around the clock for absolute readiness. The sooner we see a home, the less competition we may have, the less competition the less likelihood of a bidding war - No one likes bidding wars. Call/text/email anytime. We also love Facebook messenger, WeChat, FaceTime, and any other way you would like to connect!
We don't just excel in training, certifications, seminars, and courses so that we may show off letters behind our name - We do it to better serve you. If we can't answer your questions, we won't waste your time by pretending to. Instead we will research the answer for you or locate the resources that you need. With our high production in successful transactions for both buyers and sellers, we have experience. Additionally, we pride ourselves in being full service agents who know both the listing and sales side - This means we keep up-to-date with trends in the marketplace and understanding of what the 'other-side' of the transaction wants. We also don't hand you off to a specialist who only handles on portion of the transaction. That method is very efficient for those brokerage companies, but is not as safe or rewarding for either the agent(s) or the client. Why should you, the buyer have to explain to a new agent every time you are handed off; Why should you feel comfortable about the 'next agent' working off of the previous agent's notes or summary? The typical buyer's perspective, knowledge, and search criteria often times evolves - We will be there to evolve with you every step and from beginning to end!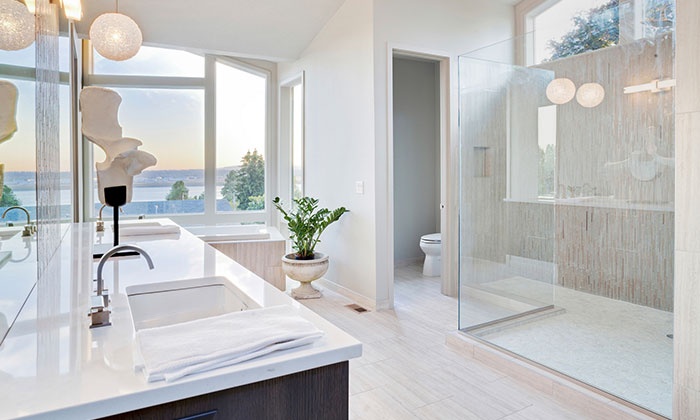 BH Group buyers get keys to a professionally cleaned home. Our cleaners use only naturally derived, non-toxic cleaning solutions, pressurized steam cleaners, and green practices to ensure safety for any pets or children. Having a home cleaned before moving in is often times overlooked. There's a lot going on around the closing date and people tend to forget to have their homes cleaned before moving into their new home. There's also the misconception that the seller will have the home spotless before moving in. Even if stated in the purchase agreement, the cleanliness of a home is subjective. To ensure there's no grey area, we simply have the home professionally cleaned for you! Plus BH Group buyers get discounts on routine cleaning if you continue using the cleaning companies we use!
Any broker can search, place an offer, and hand you keys a month later. How BH Group brokers differ is how we keep you safe before, during, and after the transaction. We prepare for, strategize, and negotiate throughout the entire transaction to keep you safe - And we are excellent at it. Like a grandmaster in chess, we keep an eye 15-moves ahead to prepare for any hurdles before getting to them. And yes, you'll hear a lot of these analogies as I ran track and played chess competitively.
Full attention - As you deserve.
Our full attention helps you buy a home faster, safer, and for less.